Discover more from Galway Job Connector
Monthly Newsletter with Insights in the Galway Job market, tips & Tricks
Lockdown is Easing,Galway Job News Issue #37
Hello all,
Welcome to edition 37 of Galway Job Connector, my free newsletter packed with tips, insights and opportunities to find a job in Galway!
Did someone forward this to you? → subscribe here | Not feeling it anymore? → unsubscribe info at the bottom.
Please take a moment to complete a quick survey here as I'd like to get a better idea who my audience is!
Find me on Facebook and on Twitter. Archive is here
I am still working on gathering Governmental Agencies, so next Weeks Newsletter will be about Governmental agencies offering support to jobseekers.
Free Digital courses( Till end of June)
Ready to access world class digital technology learning?
Check out these free courses offered by Adobe ( Design), Market0 ( Lead Generation/marketing) and Magento( E-Commerce). A subscription normally costs a whopping 2500 USD. Why not challenge yourself and learn a new skill by the end of June!
Father's day coming or a treat for yourself?
Looking to buy a gift for dad, or maybe you just want to treat yourself? Check out the floral range of perfumes, lotions and creams by the Burren Perfumery - the Man of Arran is my favourite Perfume( unisex). Click on the the image, and you'll get 5 Euro off( and I'll get a 5 Euro credit)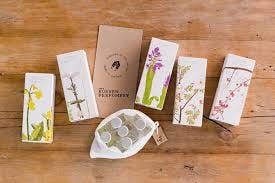 Gift for Father's day? Click on the image, and get 5 Euro Off
Galway Jobs I came across
Growremote is hiring a General Manager, you can be based anywhere in Ireland - rooting for someone in Galway:)
Social Innovation Fund Ireland: Fund Manager
Social Innovation Fund Ireland is looking for a Fund Manager to join their team. This is a 2-year contract. Role can be based in Galway or Cork! Would love to see someone in Galway scope this very interesting job!
Principal Cloud Software Engineer
Found this on Twitter - Join their Talent Network to get jobs delivered to your inbox
www.fidelityinvestments.ie • Share
I have noticed an increase in cleaning and delivery jobs - check the weekly GRD Newsletter( in Resource section)
jobs at Portershed member Keep checking - New jobs added regularly
If you want to help sewing face masks for carers in Galway, join this Facebook group, they are looking for sewists in Galway, and funds to purchase materials.
You can now join as a self employed Sewist, find out more on their new Facebook page called the Mask Makery.
Shifting Gears from aviation / Automotive to Medtech
It is easier than you think. If you currently hold a level 8 Engineering or equivalent qualification and have +2 years in high volume manufacturing, ideally in the regulated industries of Aerospace, Automotive or Food then you are in a good position to secure a job in this sector.
Press Articles/Media
Easing the COVID-19 restrictions on 8 June (Phase 2)
Full details of Phase 2, kicking off tomorrow! We will have to wait till July 20th for that much needed haircut!
The COVID-19 crisis has continued to have a significant impact on the labour market in Ireland in May 2020. While the standard measure of Monthly Unemployment was 5.6% in May 2020, a new COVID-19 Adjusted Measure of Unemployment could indicate a rate as high as 26.
Other Resources
Check out the weekly Job bulletins, published on a Thursday by Galway Rural Development This is a unique resource to get an overview of jobs advertised in local papers, some online jobs, combined with information about CE schemes and training opportunities. Subscribe at the bottom of their page
Growremote & remote job board & all about remote jobs in Ireland!
https://www.covidresponsejobs.com/ Subscribe to their newsletter and get jobs delivered to your inbox( check your spam folder!)
https://hbsrecruitmentservices.ie/ Help the HSE/ Register your interest (mostly unpaid, some paid)
https://www.volunteer.ie/about-us/covid-19/ To register to volunteer in your community
https://www.activelink.ie/vacancies Volunteer/paid jobs in the social sector - (get jobs delivered to your inbox, subscribe to their weekly E-Bulletin)
Best website to check for jobs advertised in shop windows in restaurants, shops, hotels in Galway City is
job section of the Galway Advertiser
jobs on Stateboards.ie
jobs on publicjobs.ie
Electronic Arts Jobs - relocation offered in some cases
Some jobs are not specific to Galway, and can be done from anywhere in Ireland. Shopify, Ebay, Amazon, Hubspot, Apple , Wayfair are all hiring remotely. This list however only scratches the surface. Best to visit the jobboard from Growremote who have their finger on the pulse on remote jobs in Ireland and also offer guidance and support on finding a remote jobs, courses and much more!
If you made it this far, thank you for reading my 37th Newsletter! Give me the thumbs up or down, so I know if you find this edition interesting or drop me an email
Greetings from Galway,
Katleen
Monthly Galway Digest : News, job resources, events
If you don't want these updates anymore, please unsubscribe here.
If you were forwarded this newsletter and you like it, you can subscribe here.
Powered by Revue
Belfield House, Skehanagh, Peterswell, Co. Galway H91 EF9N