How to find a job on Facebook & Galway Job News Issue #33
Hello all,
Welcome to Edition 33 of Galway Job Connector's Newsletter!
Please take a moment to complete a quick survey here as I'd like to get a better idea who my audience is!
Find me on Facebook and on Twitter. Come and say hello:) or why not share with a friend that is looking for a job in Galway. Or unsubscribe at the bottom.
Next weeks newsletter will be about finding a job on Facebook on your mobile!
How to find a job on Facebook on your PC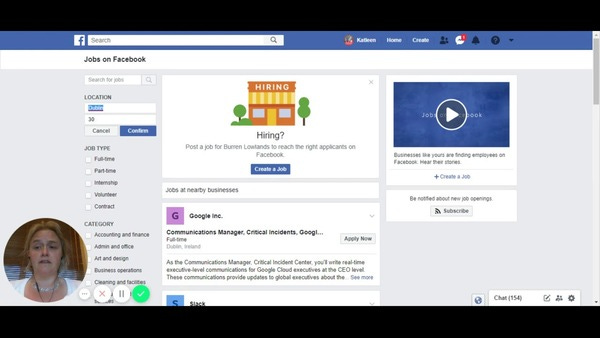 Where to find a job on Facebook by Galwayjobconnector
Looking for a Job on Facebook? Follow these 3 simple steps to find out where those jobs are listed, what type of jobs there are listed and how you can get notified
Websites to check
Best website to check for jobs advertised in shopwindows in restaurants, shops, hotels in Galway City is http://www.galway.staff-wanted.net/p/home.html Now that restaurants are making plans to re-open( mostly delivery) , vacancies for drivers are starting to appear
I saw that Cityswift in the City Centre has a number of vacancies, check them out here ( some are flexible location wise)
It's all happening in Athenry, where a large project kicked off earlier in the year to create a innovation food hub. They are currently recruiting for a Project Co-Ordinator - Find out more here
Some jobs are not specific to Galway, and can be done from anywhere in Ireland. Shopify, Ebay, Amazon, Hubspot, Apple are all hiring remotely. This list however only scratches the surface. Best to visit the jobboard from Growremote that have their finger on pulls on remote jobs in Ireland and also offer guidance and support on finding a remote jobs, courses and much more!
If you want to help sewing facemasks for carers in Galway, join this Facebook group, they are looking for sewists in Galway, and funds to purchase materials.
Press Articles/Media
Financial services firm creating 100 new jobs in Galway and Dublin
Financial services firm Fidelity Investments is creating 30 new jobs in Galway as part of an expansion of its Irish operations. The majority of the new jobs in Ireland for the Boston based company will be for software engineers to be hired in the coming months.
Working from Home – What are the Regional Patterns?
In a recent blogpost I examined the data on working from home and the trends that have occurred up to the outbreak of the Covid-19 pandemic. The data over the last two decades suggest that there may be a correlation between economic growth, unemployment levels and the numbers working from home.
wdcinsights.wordpress.com • Share
COVID-19 Pandemic payments to be extended
The Pandemic Payments was scheduled to be paid for 12 weeks. Now that government has published the 5 stages of re-opening the economy, the Pandemic Payments will be extended till halfway June.
Other Resources
Check out the weekly Job bulletin, published on a Thursday by Galway Rural Development This is a unique resource to get an overview of jobs advertised in local papers, some online jobs, combined with information about CE schemes and training opportunities. Subscribe at the bottom of their page http://www.grd.ie/
Growremote & remote job board & all about remote jobs in Ireland!
https://www.covidresponsejobs.com/ A new website focussing on opportunities in companies due to COVID-19
https://hbsrecruitmentservices.ie/ Help the HSE/ Register your interest (mostly unpaid, some paid)
https://www.volunteer.ie/about-us/covid-19/ To register to volunteer in your community
https://www.activelink.ie/vacancies Volunteer/paid jobs in the social sector - get jobs delivered to your inbox, subscribe to their weekly newsletter ( sign up to their weekly E-Bulletin)
Thank you for reading my 33rd Newsletter! Does it have (some) information you are looking for? Or what information are you looking for? If you are interested in a more detailed conversation in your job search, or want to advertise a job or sponsor my newsletter, drop me an email
Greetings from Galway,
Katleen
Monthly Galway Digest : News, job resources, events
If you don't want these updates anymore, please unsubscribe here.
If you were forwarded this newsletter and you like it, you can subscribe here.
Powered by Revue
Belfield House, Skehanagh, Peterswell, Co. Galway H91 EF9N